Time for another write up.  Since I didn't take a lot of pics of some of the early things I did to my car, I'll sum up some of the first mods I did. (LOL, did I just say "sum up some"?)  I'm going back in time to the day I bought my car.  Here are some pics of it that were taken before I bought it (note the ricer coffee can exhaust! LOL. I was so glad when I finally got rid of it!):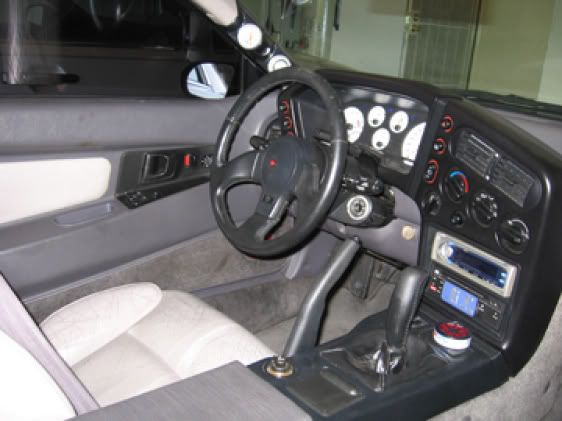 Damn, I look at these and realize how much I've let the exterior go.  It looks like crap now compared to the old pics.  Time to bust out the DA and some Meguiars product!
The first modification I did was the JIC Coilovers.  I already did a write up on those. You can see that here. The next thing I did was replace the stock 14b turbo with an Evo III 16g GT turbo from turbochargers.com that I bought through RRE. It's basically a ported 16g with a bigger flapper. While it may seem that I did the turbo swap too early in the build process, the old 14b was on its last leg, so I had to replace it, and I figured "why not upgrade?". The 16g GT is a pretty darn good turbo, but once you're running it on a 2.3L stroker it really ends up being the bottleneck in the system. It spools up FAST (almost too fast), but falls on its face after 6,500rpm. You can get a good amount of power out of these turbos (300whp+), but at that point you're really pushing the turbo hard and tuning at the limit. My *built* engine doesn't like more than 19psi on this crappy California 91 octaine that we get out here. I certainly have some room for improvement in tuning, but I'll cover that in another entry. Sadly, I didn't really cover the turbo build much. I only have "before" pictures. It serves as a great juxtaposition to how my engine bay looks now, though. It's hard to tell, but you can see the thrashed blades on the close up of the compressor. I added a stainles steel braided oil supply line from RRE that feeds oil to the turbo right of the filtered sided of the oil filter housing, rather than the stock line which feeds dirty, low pressure oil from the head. Oh, one more note: in the pics below you'll see the Fluidine aluminum radiator I have. It was already in the car when I bought it.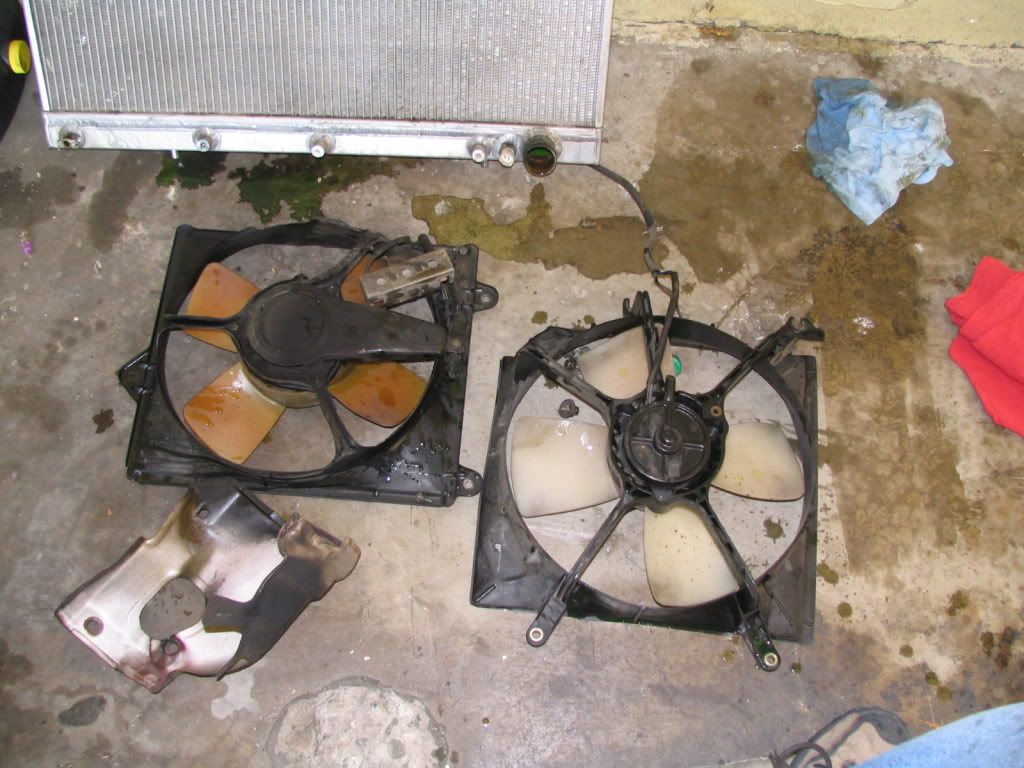 The next thing I did was put a 3 inch mandrel bent exhaust on it. I picked up a used cat-back from a DSM owner for $20!!! But it didn't fit perfectly so I had to pay GT Fabrications to install it, and later I had RRE put some beefy 2 bolt flanges on it. Oh, btw, the previous owner had already put a 2.5in to 3in down pipe and a 3in cat, so from down pipe back its 3in diameter w/ no press bends. The muffler that came on the exhaust is a Magnaflow straight through design. Very sleeper, very quiet for a 3in, and it FLOWS like crazy. Huge improvement over the previous owner's exhaust, which was a hacked together 2.5in press bent hunk of junk w/ a huge coffee can ricer muffler that was LOUUUDD! Also, I noticed a serious increase in power just with the butt dyno. That usually means at least a 20hp increase...and that's running low boost on the 16g turbo. Oh, I also put a ported Evo III exhaust manifold at some point, but I never took pics of it. You can see it in the pics of the 2.3L stroker build.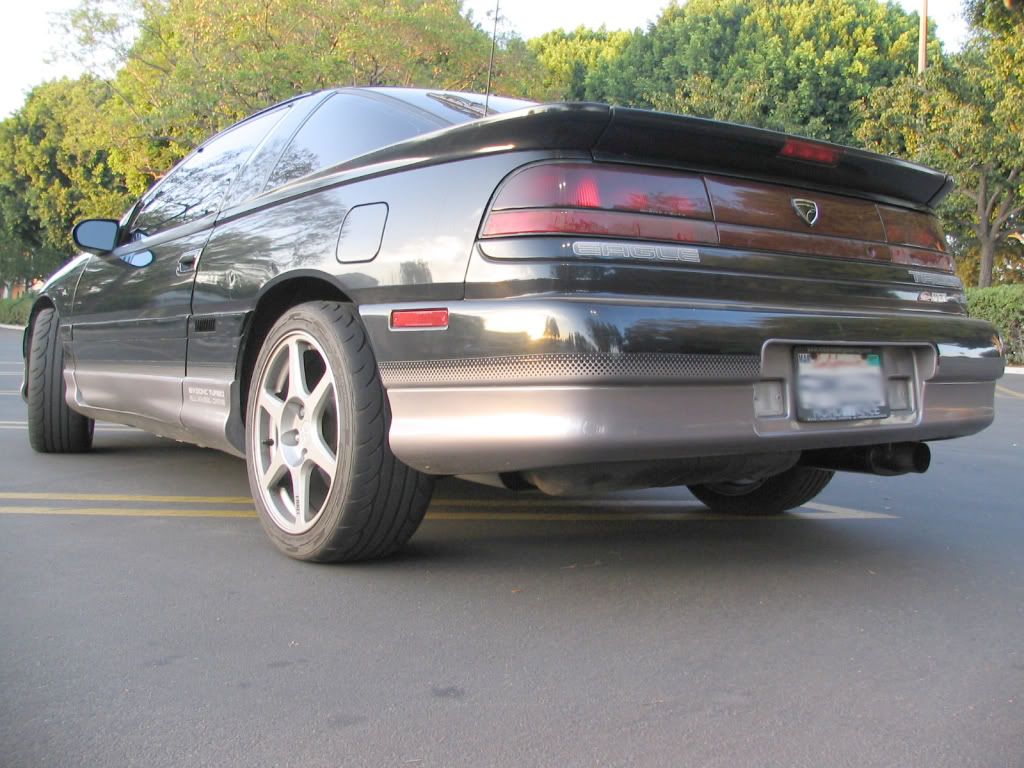 Well, that covers the early stuff. Next time, it's fixing old motor mounts followed by clutch/transmission replacement.